Rolling Stones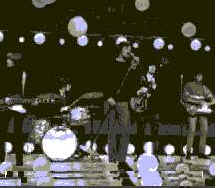 The Rolling Stones, grupo de música rock británico que rivalizó en popularidad con sus contemporáneos The Beatles.
En 1962 Mick Jagger, Keith Richards, Brian Jones, William Wyman (que dejó el grupo a finales de 1992) y Charles
Robert Watts, todos ellos ingleses, forman el grupo. Mick Taylor sustituyó a Jones en 1969 hasta 1975, fecha en la que
Ron Wood ocupó su lugar.

El sonido rock duro y ronco, influido por el rhythm and blues estadounidense, y su actitud irreverente contrastaban
con el estilo más suave de los Beatles, y les proporcionó gran número de seguidores en todo el mundo. Algunas de
las mejores canciones de su primera época son 'Time Is on My Side', 'Mother's Little Helper', 'Heart of Stone',
'Ruby Tuesday', 'Satisfaction' y 'Little Red Rooster' (canción considerada demasiado explícita desde el punto de
vista sexual para ser publicada en Estados Unidos).

Entre sus álbumes más significativos se encuentran Out of Their Heads (1965), Beggars Banquet (1968), Let it Bleed
(1969), Gimme Shelter (1970), Exile on Main Street (1972), Some Girls (1978), Undercover (1983) y Voodoo Lounge
(1994). A partir de 1990 algunos miembros de la banda también han grabado discos en solitario.